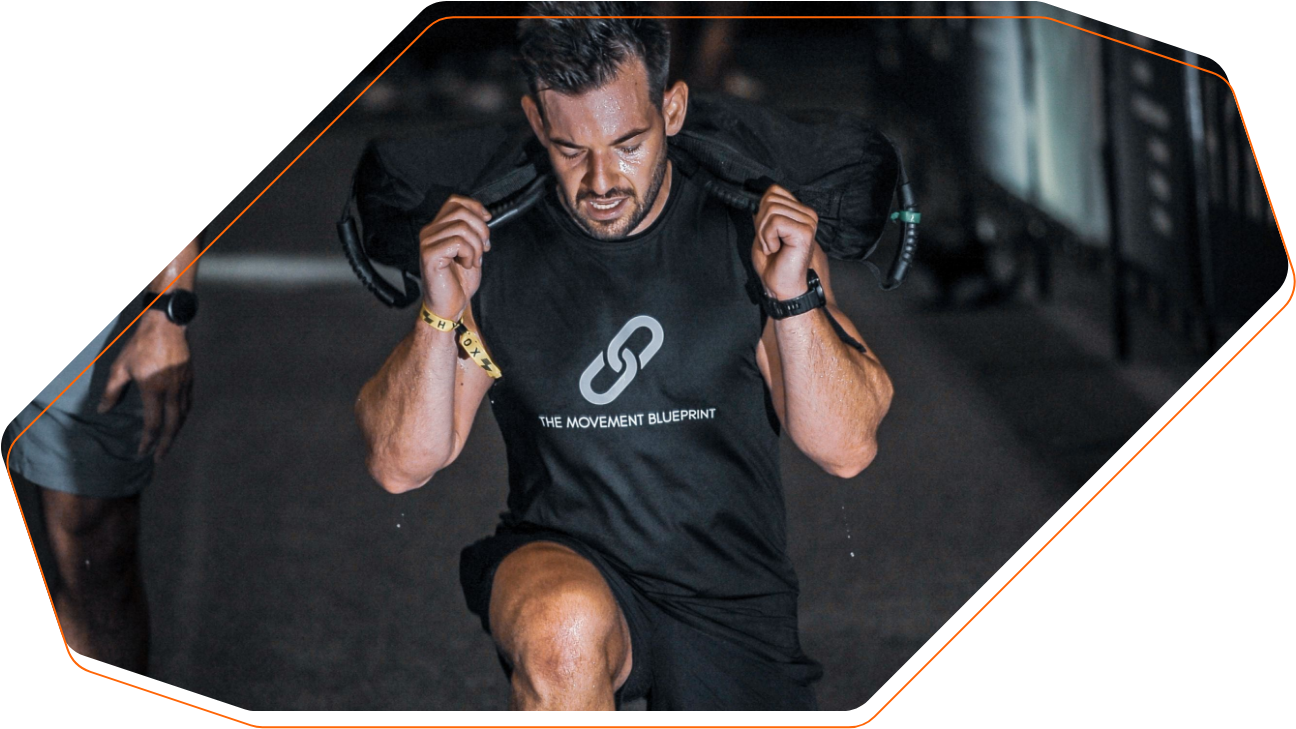 The ultimate 8-week guide to see you arrive at your chosen event race-ready and ahead of the competition
What is HYROX?
The HYROX event is made up of 8 x 1km runs and 8 x functional workout stations [SkiErg, Sled Push, Sled Pull, Burpee Broad Jumps, Rowing, Famers Carries, Sandbag Walking Lunges and Wall Balls]. The goal is to complete the full workout in the fastest time possible – a challenge that has become mildly addictive and competitive around the world.
HYROX has become a regular event within the MBP community calendar, globally. With our Coaching Team and many of our community qualifying for World Championship spots, to all those scoring podium finishes. The Movement Blueprint have the tools, know-how and tried and tested expertise to see you excel in the HYROX World.
What does the programme include?
HYROX looks simple enough on paper, but the dark horse that will catch you up is the volume, and therefore your resistance to fatigue as you work through each station. The event requires strength, cardiovascular fitness/running and endurance in equal measure. Whilst the skill of the specific movements is key, these certainly shouldn't be the only exercises within your training if your goal is to complete the race unbroken. There is no such thing as a fast-track podium spot, but put the hard yards into your training with The HYROX Blueprint, and we'll ensure you're ready to perform come race day!
The HYROX Blueprint includes 2 event-specific training sessions per week – designed to replace the Wednesday (aerobic) and Saturday sessions in TRAIN/PERFORM. Our TRAIN and PERFORM programmes will have you race race ["if you're after some HYROX unfair advantage, it's called The Movement Blueprint PERFORM prog" – Malcolm, HYROX Glasgow World Champs qualifier February 2023] – The HYROX Blueprint will give you competitive edge.


Added bonus
To ensure you're fully prepped and primed, we've even provided a race-day warm up to ensure your body's firing!
How do I unlock it?
To ensure you're fully prepped and primed, we've even provided a race-day warm up to ensure your body's firing! The HYROX Blueprint is only available within our TRAIN and PERFORM subscriptions, since it is designed to run alongside our training programmes. Once you sign up to either programme, you will automatically gain access to our 8-week HYROX guide. This means, whenever you sign up to a HYROX event, you have our guide there ready to start 8 weeks prior.
If you are already an existing member of TRAIN or PERFORM, you will automatically gain access to the 8-week bolt-on guide.
Click here to sign up and access The HYROX Blueprint!