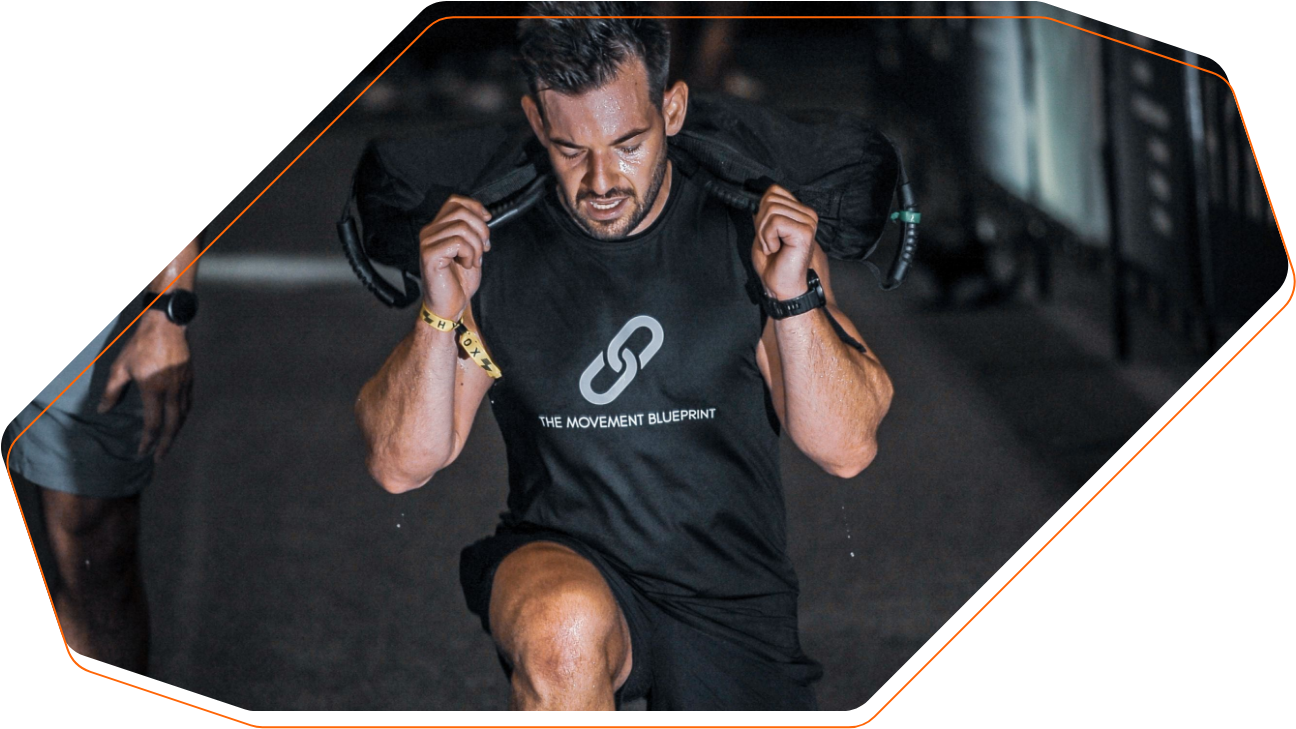 A few years back, the HYROX functional fitness event stormed on to the competition scene and is one Team MBP are continuing to take on in force! Whether you've already signed up or are thinking about competing, here are The Movement Blueprint's top tips to get HYROX-ready – and how MBP founder Harvey Lawton prepared for the HYROX World Championships in Las Vegas!
The HYROX event is made up of 8 x 1km runs and 8 x functional workout stations [SkiErg, Sled Push, Sled Pull, Burpee Broad Jumps, Rowing, Famers Carries, Sandbag Walking Lunges and Wall Balls]. The goal is to complete the full workout in the fastest time possible – a challenge that has become mildly addictive and competitive around the world.
If you search on Google for a 'HYROX training plan', you'll be flooded with options, programmes, tips and methods, which will more than likely leave you overwhelmed. Instead, we've put together a simple, effective and proven training strategy that will see you perform at your best come race day! Remember, whatever the internet may offer, there is no such thing as a fast-track podium spot – a quick time will rely on you putting in the hard yards in training.
So what should your training include?
The HYROX event requires strength, cardiovascular fitness/running and endurance in equal measure. The sleds are heavy (relative) whilst the remainder of the stations require a good level of strength endurance to sustain the require volume. As well as being physically challenging, HYROX is also aerobically taxing and therefore optimising your strength, power, cardio and accessory training is key to ensure you set yourself up for a win. It's important to note that whilst training the specific movements of HYROX is important – for confidence and efficiency – these certainly shouldn't be the only exercises within your training.
The strength movements you should be training in prep for HYROX
To build full body strength to see you excel at HYROX, look to consistently include the following strength exercises within your weekly training:
Barbell deadlift
Barbell back squat
Loaded lunge / step up
Single arm dumbbell row
Overhead press
Farmers carry
Bent knee calf raise
The power movements you should be doing in prep for HYROX
To ensure your body can withstand the volume and endurance required throughout the HYROX race, aim to consistently include the following movements within your weekly training:
Dumbbell loaded vertical jump
Sled push + sled drag *if you are without regular access to a sled, look to substitute with sufficient lower body volume through either walking lunges or bike
The accessory movements you should be training in prep for HYROX
HYROX looks simple enough on paper, but the dark horse that will catch you up is the volume – your resistance to fatigue will be essential to see you move through each station. Look to progressively overload the following movements as your training weeks progress:
Heavy dumbbell thrusters
Giant sets of wall balls
Burpee dumbbell deadlift
The aerobic workouts you should be doing in prep for HYROX
HYROX is one long aerobic workout essentially, therefore developing your capacity is key to ensuring fluidity and no unwanted rest breaks! Look to incorporate the following threshold intervals across running, skierg and rowing within your weekly training:
4 minutes on / 1 minute off @ 85% effort
Progressing to: 2 minutes on / 1 minute off @ 95% effort
If you're looking for addition support and guidance to get you HYROX ready and ahead of the crowd, The Movement Blueprint are here to help! Our monthly PERFORM programme delivers the perfect training prep for HYROX, incorporating all of the above movements and methodologies.
If you are looking for something more bespoke, tailored to you and your available equipment, our 1-1 Bespoke Coaching will see you get to the start line ready to perform like never before. Add 1-1 Nutrition Coaching as a bolt-on to really take things to the next level!