PERFORM
A training masterclass that fuses strength training, hypertrophy and work capacity to see you build muscle, strength and a bulletproof physique.
Whether you are looking to compete in functional fitness, or want to drive your performance and develop your aesthetics, the PERFORM programme will see you level up all aspects of your training!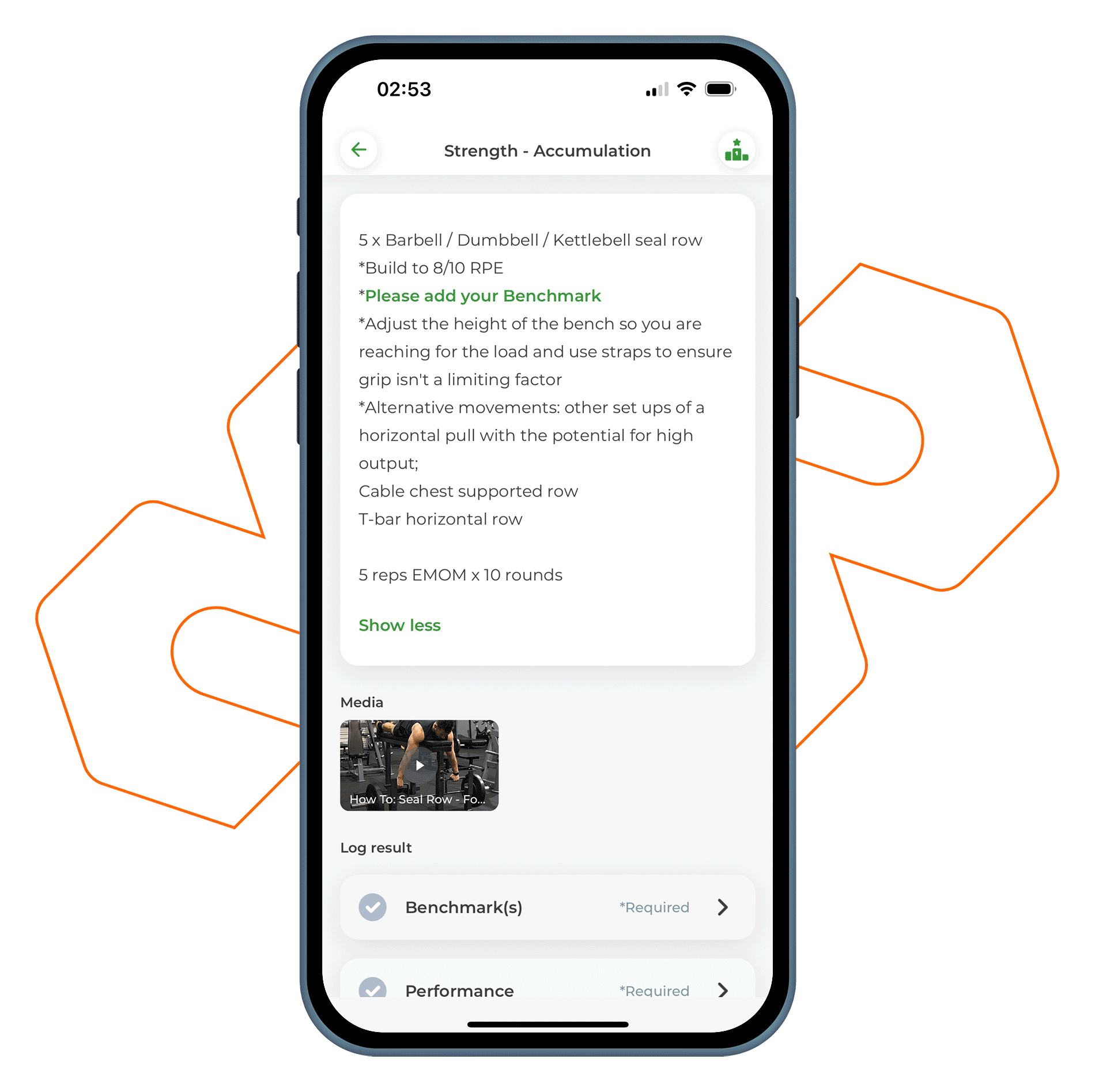 As a member, you will gain access to our all-encompassing coaching app where your training sessions will be delivered each week. By entering your own personal benchmarks and previous PBs, we will provide you with bespoke weight targets for your key lifts to ensure your continual progression.
WHERE YOU ARE NOW

Maybe you've hit a slump in your training.

Perhaps previous programmes have left you feeling unfulfilled and overstrained.

Or whilst you're driven by the pursuit of performance, you feel somewhat lost with your training goals.

WHERE YOU WANT TO BE

You're seeking structure, guidance and accountability.

You want to learn and be challenged, but you also want to reap the reward for your efforts.

You want to complete in the likes of HYROX, Turf Games and National Fitness Games, but don't want to sacrifice your pain-free training for PBs. You want both.

PERFORM: THE ROAD MAP

PERFORM is renowned for its forward-thinking application – it layers foundational movement patterns with skill integration to leave you consistently feeling built, not broken.

It fuses the most effective principles from mobility and corrective exercise, bodybuilding, strength and conditioning, to deliver the most comprehensive functional fitness training programme out there!

WHAT PERFORM IS

PERFORM is a strength programme incorporating progressive phases of training throughout the year. It blends exactly what you want with everything you need.

– It is designed to develop strength, size, cardiovascular fitness and athletic development
– It incorporates all key pillars of human movement (hinge, lunge, squat, push, pull and carry)
– It utilises barbells, dumbbells, kettlebells, sandbags, d-balls, sleds, weight and CV machines

WHAT PERFORM ISN'T

PERFORM is not CrossFit and does not include any of the following:
– Highly technical Olympic lifts (snatch, split jerk)
– Gymnastics (ring muscle up, HSPU, handstand walks)

PERFORM isn't suitable for those without experience in functional fitness.

DIFFERENCE BETWEEN PERFORM AND TRAIN?

PERFORM
– Progressed barbell and kettlebell complexes
– No gymnastics/technical olympic lifting (barbell power cleans and positional work only)
– Suited to those looking to compete

TRAIN
– Designed for those with some training experience, looking to take things to the next level
– Incorporates foundational barbell movements
– No gymnastics/olympic lifting

FAQS

Can I join PERFORM anytime?
Yes you can sign up any time during the month.

Do I need to be in a specialist gym?
No – PERFORM is designed to be accessible in any gym and is programmed with consideration of standard equipment.

What happens if I miss a session?
You will be able to go back and complete any missed sessions in your own time.
"

The best programme and training I think I've ever done – you've created a masterpiece

Thomas Wright

"

Absolutely love the programme. The crossover to me as an active dad and a firefighter is immense – I feel bulletproof in life!

Malcolm Bertram

"

I have been on the MBP Perform program for a few months now and I am absolutely loving it.

Nathan Horn

"

I joined the group PERFORM program back in January and can't remember a time I have felt this strong and performed so well.

Charlie Jones

"

As a coach and fitness enthusiast I couldn't recommend The Movement Blueprint enough.

Jennifer Young

"

I have been loving the Perform plan by MBP and I look forward to my next session before I have even completed the days before.

India Paine