TRAIN
The TRAIN programme is a fusion of functional movement, strength training, cardiovascular fitness and aesthetic development, designed for any fitness enthusiast.
It offers a progressive approach to training that will see you build a strong and functional physique, burn fat and improve across all areas of your fitness.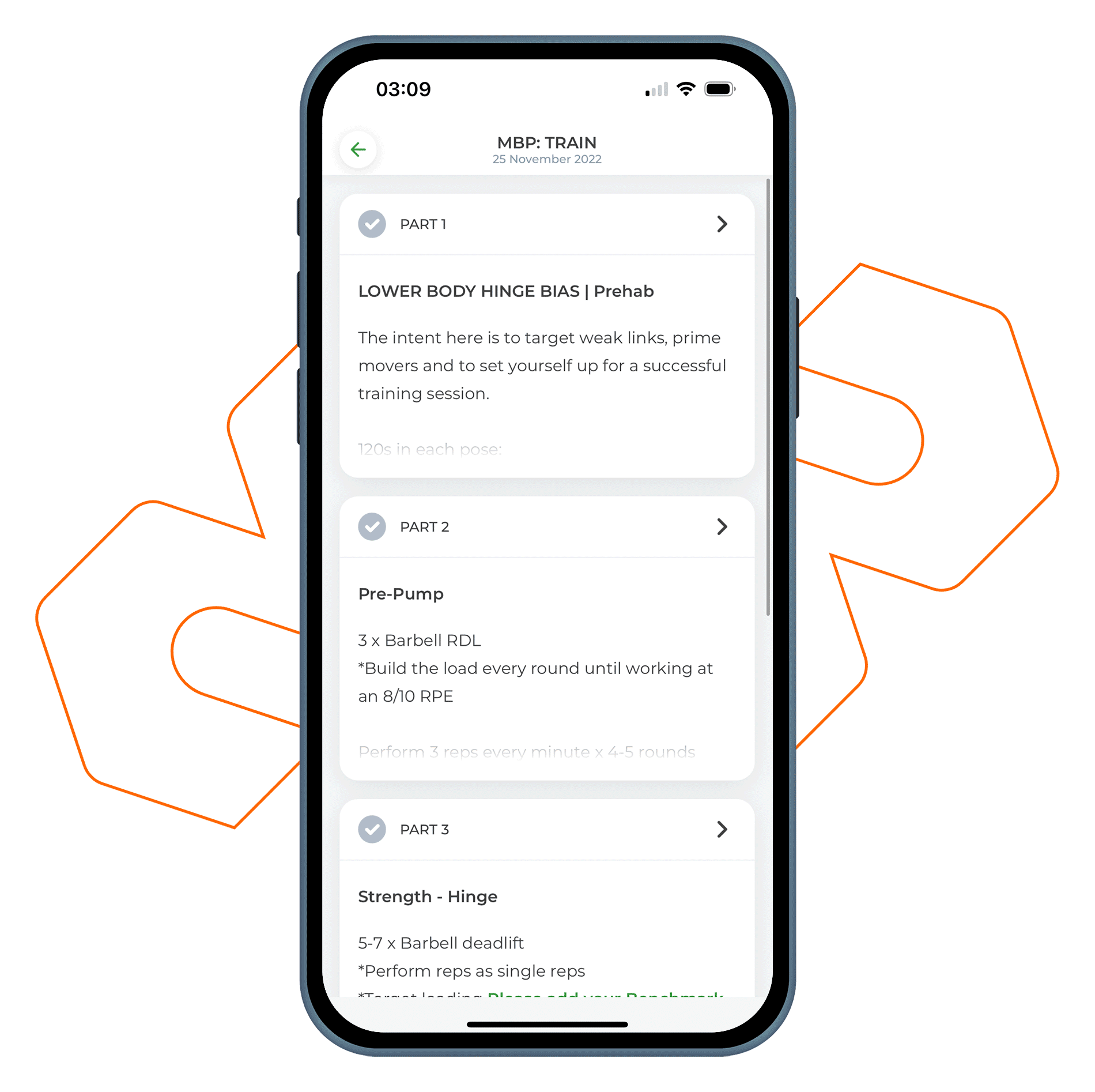 As a member, you will gain access to our all-encompassing coaching app where your training sessions will be delivered each week. By entering your own personal benchmarks and previous PBs, we will provide you with bespoke weight targets for your key lifts to ensure your continual progression.
WHERE YOU ARE NOW

Has your training stagnated, your progress plateaued and, as a result, your enjoyment plummeted?

Is a lack of structure across your weekly training holding you back?

Or maybe you feel as thought you're doing everything right, but the results just aren't stacking up from your invested efforts.

WHERE YOU WANT TO BE

Building a strong and athletic physique is your ultimate goal for 2023, and you're looking for the tools to keep you on track and progressing.

You want to look good, move well and feel your best both in and out of the gym.

TRAIN: THE ROADMAP

If long term results and enjoyment are high up in your training priorities, our TRAIN programme will support not only your performance and aesthetic drivers, but also the future health of your body.

Guiding you through progressive training cycles throughout the year, TRAIN will see you develop strength, aerobic fitness, resilience to injury and a confidence to beat!

WHAT TRAIN IS

TRAIN is an all-encompassing training programme, designed for all fitness enthusiasts.

The programme;

– Incorporates all key pillars of human movement (hinge, lunge, squat, push, pull and carry)
– Integrates mobility, strength training, bodybuilding and cardio
– Utilises barbells, dumbbells, kettlebells, sleds, weight and CV machines

WHAT TRAIN ISN'T

TRAIN isn't HIIT or CrossFit, nor is it designed for someone who has never stepped foot in a gym before. The programme requires confidence performing the following movement patterns;

Lunge
Hinge
Squat
Push

DIFFERENCE BETWEEN TRAIN AND PERFORM?

TRAIN
– Designed for those with good training experience, looking to take things to the next level
– Incorporates foundational barbell movements
– No gymnastics/olympic lifting

PERFORM
– Progressed barbell and kettlebell complexes
– No gymnastics/technical olympic lifting (barbell power cleans and positional work only)
– Suited to those looking to compete

FAQS

Can I join TRAIN anytime?
Yes you can sign up any time during the month.

Do I need to be in a specialist gym?
No – TRAIN is designed to be accessible in any gym and is programmed with consideration of standard equipment.

What happens if I miss a session?
You will be able to go back and complete any missed sessions in your own time.
"

The training is a different level to what your average coach would program – it's so unique and clever

Matt Brazier

"

The mix of exercises and rep structure keeps things interesting and I leave every session feeling like I've worked hard

Maisie Kilner

"

TRAIN has given my training structure, purpose and I've never felt stronger – big up the community for keeping me honest on the daily!

Sarah Hart

"

In 2 months I've gone from 45kg back squats to 60kg – this programme is bringing out strength I've never seen before!

Kim Rowles

"

The Movement Blueprint and their TRAIN programme are absolutely first class.

Jed Milward